Stump Removal and Grinding Costs Explained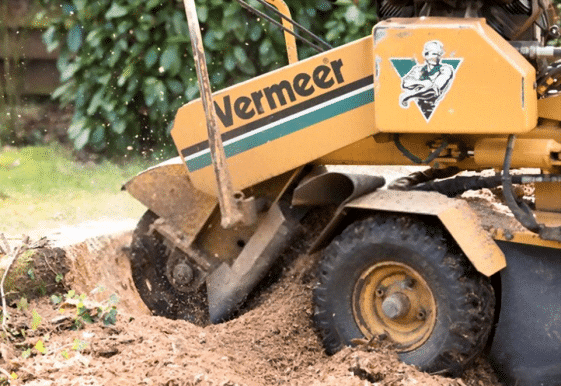 When it comes to tree troubles, Simpsons Tree Service is dedicated to providing effective solutions, including stump removal and grinding. In this blog post, we will discuss the process, pricing factors, and available options for stump removal. Whether you opt for complete removal or grinding, our team is here to guide you through the decision-making process and provide top-notch services.
Stump Grinding Process:
Stump grinding is an essential step for those who have recently had trees removed. While leaving the stump in your yard may seem like the cheapest option initially, it can lead to future problems and increased costs. Leftover stumps can take up valuable planting space, create tripping hazards, and attract termites that can infest your home. To prevent regrowth and avoid these issues, grinding the stump is recommended.
Cost Considerations:
Stump removal through grinding is one of the most challenging tasks for arborists. Removing a stump cleanly from the ground poses difficulties. However, at Simpsons Tree Service, we prioritize providing cost-effective stump removal while ensuring safe and efficient operations. Our services are OH&S compliant and fully insured, protecting you from unexpected expenses during the stump removal process.
We offer competitively priced stump grinding, along with additional options to enhance cost-effectiveness. Stump grinding is generally a cheaper and simpler method to achieve the desired outcome. Our team can guide you through the best and most efficient ways to remove your stump while considering your specific needs.
Access Issues:
To perform stump grinding effectively, we require access for our stump grinder. This typically involves fitting the grinder through the side of the house or a gate, with a minimum width requirement of 750mm to 1000mm.
In some situations, stump removal may not be cost-effective. For instance, on sloping blocks, removing the stump might compromise ground stability and impact the structural integrity of nearby plants and buildings. Stumps located close to underground services (such as gas, electricity, or water) or raised garden beds may also present challenges for removal. Our professional arborists are available to discuss your requirements and help you make an informed decision.
Removal vs. Grinding:
Stump grinding is often a more affordable option compared to complete stump removal. Removing a stump entirely can be a complex process, requiring significant force, potentially leaving a large hole to fill, and causing damage to surrounding elements like pavement or other plants. Additionally, removing deep and long-established roots can even harm adjacent buildings.
On the other hand, stump grinding is a straightforward procedure. It involves felling the tree and grinding the stump down to approximately 30 cm below the surface. The roots remain below this point, but their presence may not affect how you utilize your yard, depending on your needs. Furthermore, stump grinding is a cost-effective, safe, and efficient method to eliminate visible tree stumps.
Cost of Stump Grinding:
Based on our experience at Simpsons Tree Service, the average cost of grinding a stump ranges between
$200 and $300.
Several factors influence the cost of stump grinding, including:
Size of the tree stump
Age of the stump
Species of the tree
Access requirements
Amount of stump remaining
Presence of surface roots
Simpsons Tree Service is committed to providing excellent stump removal and grinding services. Whether you choose complete removal or stump grinding, our team will assist you in making the right decision. Stump grinding is often the more cost-effective option, ensuring the removal of visible stumps without extensive damage to the surroundings. Reach out to us for professional guidance and enjoy a stump-free yard at competitive prices.
Read more about the stump grinding services offered by our team at Simpsons Tree Service, and reach out for a free quote to see how much it will cost.