Tree Stump Removal Eaglemont
Why Remove The Stump
Leaving tree stumps to take care of themselves isn't a good option, as they take decades to rot away. They can be covered with a pot plant on top, but if they are a weed species they will likely re sprout from the stump or root system. This means the best solution is to grind the tree stumps with one of our stump machines.
At Simpsons Trees, we have two different stump removal machines – one is for tight spots and the other is larger trees and is self-propelled.
Stump Grinding – Depth & What Happens
Our stump grinding services grind stumps to a maximum depth of 36cm where the tree hits the ground. If you also need roots removed, that will require an additional charge as they tend to spread out across lawns, garden beds and under paths.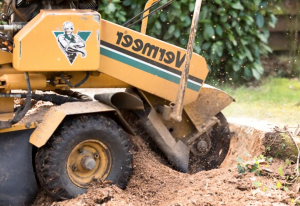 Stump grinding is especially important for weed species, as they will regrow if left unattended. Grinding tree stumps will allow for new plantings in the space where the tree stump was.
The machine grinds up the stump into sawdust and mixes it will the surrounding dirt. These materials are all left on site to become fluffy as the soil is aerated.
We only grind where the tree hits the ground and any large roots attached to it. We can grind the roots out, but if the roots are spread over the garden as is usually the case, the stump machine will make a mess of your garden. Generally, the smaller diameter roots will rot away in a couple of years.
Our two machines allow us to access trees on banks and down stairs. The smaller machine is the width of a wheel barrow and the bigger one is just slightly wider, so both generally can fit through gates. If your property has a lot of stairs or underground services, however, that may cause a hindrance.
Tree Stump Removal Eaglemont
Our stump grinding equipment is what allows us to provide quality tree stump removal in Eaglemont. Tree stump removal is required so that you can get the most out of your land, and prevent any weed species from taking over your garden.
For the best tree stump removal in Eaglemont, look no further than the experienced team at Simpsons Trees. We proudly offer services across Melbourne's metro area.
To learn more about how we can help you, or to discuss your tree removal needs with our friendly team call us today on 03 9438 2238.
Underground Services
Your gardens contain underground services – these must be shown to the company representative at the time of quotation so that you can receive the best possible service.
The best way to find these services is calling Dial Before You Dig

Another thing to consider is where your phone lines are, as they can be anywhere underground. Before we can service your property, you must let us know where they are. If you have not shown us where these phone lines are, we are not liable for any accidental damage. However, if we have been shown the phone lines and we accidentally damage them, we will take care of it right away. These terms and conditions are in our quotation sheets, which upon acceptance are binding
Insurance
Simpsons Tree Service have $10,000,000 insurance cover. So if you have concerns about possible damage to your property – you can be assured that Simpsons Trees have it covered.
View our Certificate of Currency – Simpsons Tree Service – Insurance Certificate