Tree Removal Campbellfield
Experienced Professional Arborists
When you need fast and detailed tree removal solutions look no further than the team at Simpson's Tree Service. With years of training and experience behind us our team of expert arborists approach every tree with the professionalism and care it requires. By offering a cost-effective and renowned tree removal service Campbellfield domestic and commercial residents alike can be free from trees that are threatening to both people and property.
With plenty of experience cutting down trees of all species and sizes its no wonder we have gained a reputation as Campbellfield's best tree removal service. Call us today to have your tree removed without issue and for the right price. We employ qualified arborists who use ropes and harness . They have the skills to cut off limbs and ground staff then lower the branch to the ground using a rope tied on by the arborist. This form of tree removal in Melbourne minimises the risk of damage to surrounding plants and fixtures.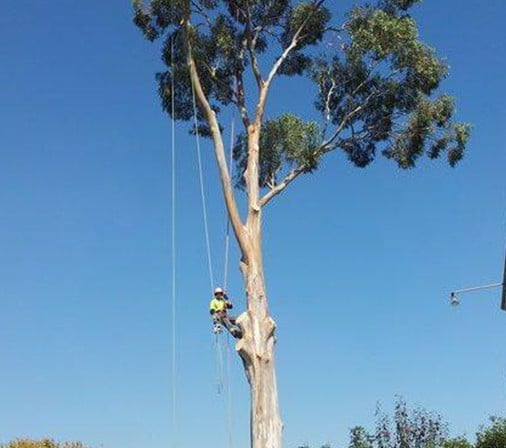 Why Would You Need a Tree to be Removed?
Beautiful, colourful, and able to add atmosphere to the home, healthy trees can improve the environment on your property. As beneficial as they are trees can sustain damage throughout their life, presenting a very real hazard to both buildings and structures, and anyone who happens to be passing beneath the tree. With their size and weight trees that are in danger of dropping limbs or completely collapsing will fall fast and hard. By having your tree removed you will be preventing destruction from impacting your home or business.
Keep the Wood
At Simpson's Tree Service we have made it our ambition to be the one-stop tree removal service the residents in Campbellfield can trust. Using innovative and safe removal methods we can completely cut down and remove even the biggest tree methodically, starting from the limbs. Once the limbs are removed the arborist cuts the trunk off in sections and the ground staff lowers them down as they return to the ground. The trunk can also be felled in a big section if there is space to do so.
The tree is mulched up using a wood chipper. The wood will be removed unless at the time of quotation a client asks to keep it. We have a new option that if the tree is suitable and accessible the trunk can be taken away and milled up in to timber posts, boards and slabs suitable for furniture construction or bench tops. Check out our Timber Products page to see what we can do for you.
Insurance
Simpsons Tree Service have $10,000,000 insurance cover. So if you have concerns about possible damage to your property – you can be assured that Simpsons Trees have it covered.
View our Certificate of Currency – Simpsons Tree Service – Insurance Certificate